SPIN
SPIN is a WDKA student collective, with this group we talk and do projects about social/ecological problems. We try to meet every week. The two most recent projects we worked on are displayed here below.
Visit the SPIN website.
Magaspin
Currently, Spin is working on a magazine that will include articles, interviews, projects and artworks by students and professionals which evolve around topics like sustainability and ecology, by acknowledging interrelated issues such as feminism, colonialism, politics ...
We envision magaSPIN as a dialogue between the writers, collaborators and readers, a space for gathering, exchanging and discussing ideas and knowledge.
We are looking for students, researchers, artists, writers, collectives and motivated individuals who want to contribute with artworks, texts (be it an article, short story or poem), projects, whatever you come up with that fits into the format of a magazine.
Please send your work until Friday the 15th of December to the following email address:
spincollective@protomail.com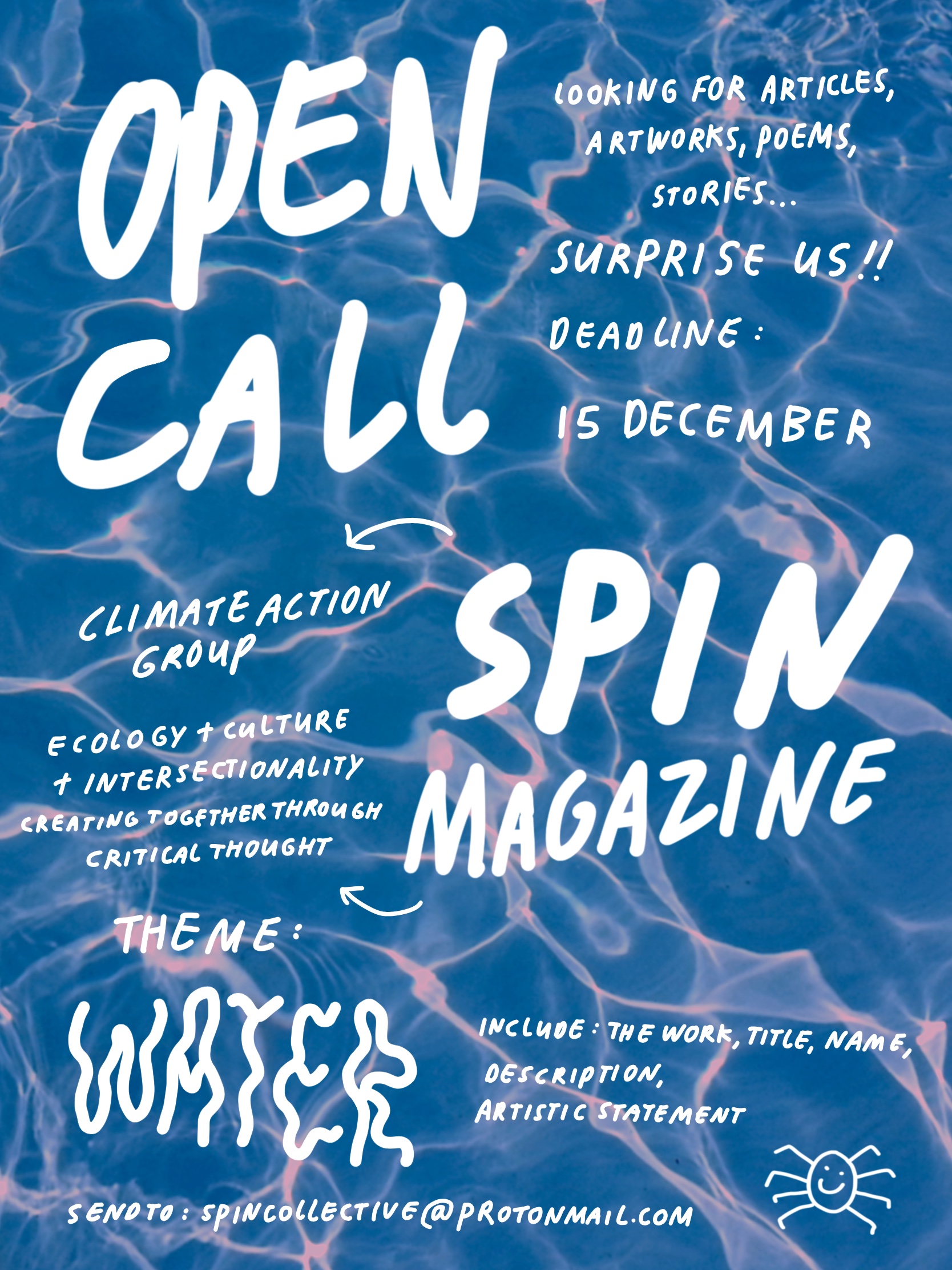 KEYNOTE
Maria Thereza Alves
The Return of a Lake: The Community Museum of Valle de Xico, social practice, and Indigenous hydro-agriculture

Maria Thereza Alves is a Brazil-born artist, a cofounder of the Green Party of São Paulo, and a former member of the International Indian Treaty Council. On November 6, Alves will contribute a KEYNOTE in which she discusses her long term project 'The Return of a Lake' In this meeting of art and activism, Alves works with the Indigenous people of the Xico valley in Chalco, nearby Mexico City, supporting and learning with the rehabilitation of a lake in the shadow of generations of colonial and neo-colonial devastations. Here, what returns is not just a lake, but the possibility of a way of life.
Alves' work has been featured within Biennale of Sydney 2020, dOCUMENTA (13), and Manifesta 12 among many other biennales and Museum venues. Following the lecture Alves will be joined for a Q&A with Clara Balaguer, Head of Social Practices at Willem de Kooning Academy and founder of The Office of Culture and Design in Manila.
Committed to institutional transformation through collective learning this program will feature a practical exercise in ceramics and advocacy, held as a collaboration with the SPIN student coalition for climate justice at the Willem de Kooning Social Practice department. Here, online attendees will be invited to grasp the living cultures of the Xico valley, and the program will result in a documented contribution to the restitution projects of the Museo Comunitario del Valle de Xico (Community Museum of Xico Valley).
Watch the keynote here.
This was my contribution to the project: